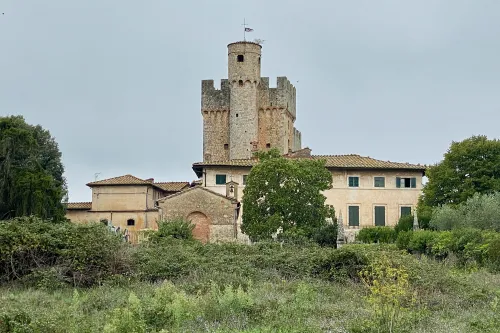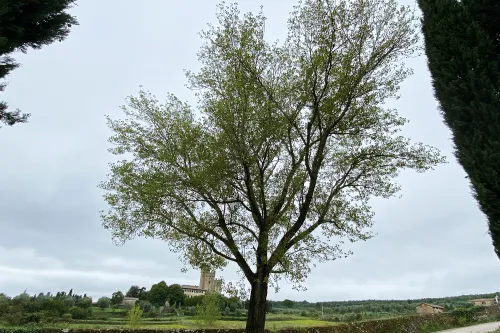 The castle can be reached following the speedway Siena-Florence up to the exit 'Monteriggioni', from here follow the Cassia Road (SR2) up to the junction for Sovicille. Turn into the first road on the right (there are no indications) and after about 2 km. you'll find on your left the agricultural estate of the "Chiocciola".
The Chiocciola Castle was one of the many medieval fortresses that rose, and in large part still rise, in the district of Monteriggioni, outpost of the Sienese power. The presence of a great number of castles in the area was due to two fundamental factors: the proximity with the Francigena Road, therefore with its various ramifications, and principally with the border-line on the territories of the hostile Florence, for a long time theater of battles and other military operations.
The site where today the complex rises was inhabited from the times of the paleolithic era, still today in the undergrounds of the castle there is a cavern of this period that lies in good state of maintenance. The origin of the main fortification seems to come from an Etruscan settlement, but the history collocates its birth in the Middle Age as a fortress of the vassals of the Lord of the near fortified town of Staggia.
The Chiocciola climbed to the war chronicles in the 16th century during the war between Siena and Florence, 1553-1555. For centuries the castle was under the dominion of the feudal family of the Piccolomini d'Aragona first and of the counts Brancadori then. The castle is today still well preserved, belonging to a big agricultural estate of the Chianti Putto wines, and it consists of two principal parts: a keep and a high cylindrical tower, both embellished by machicoulis in bricks.
The name of this small fortress derives from one of these towers that contains a beautiful helical staircase 'with the form of a Snail (chiocciola)'. The access at the tower still preserves the original gate in beaten iron of the 14th century. Around these well-preserved remains of the medieval castle in the following centuries have risen other buildings. The castle is a private residence and center of a farm, visitable only from the outside.