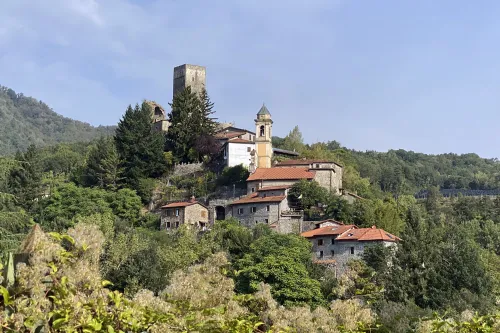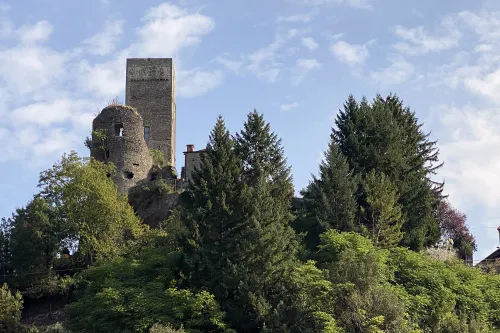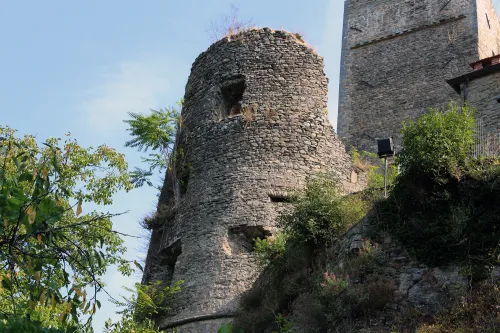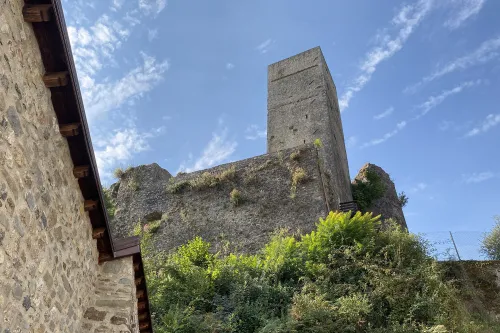 From the A15 motorway exit at Aulla, continue towards Terrarossa along the Strada Statale 62 della Cisa. Once in Terrarossa, follow the signs for Barbarasco - Tresana (Strada Provinciale 23). After passing the hamlet of Barbarasco, continue towards Tresana. After about 4 km the tower of the castle will appear on your right.
The Malaspina Castle of Tresana crowns a rock at the top of the narrow alluvial plain of the Osca river, a right-hand tributary of the Magra river. The rock has steep, almost vertical slopes, making it inaccessible and easily defensible, ideal for controlling a large part of the underlying territory.
The fortress belonged to the Marquises Malspina, an ancient caste of Longobard origin that dominated the entire Lunigiana for centuries, of the Spino Secco branch, and has undergone various construction phases. The oldest part is the large square tower of the keep, about 27 metres high, dating back to the 11th-12th centuries. Later the castle was enlarged, particularly during the 14th-15th centuries, and a large round tower was added to the keep.
Tresana was a possession, granted by Emperor Frederick Barbarossa in 1164, of Marquis Obizzo of Mulazzo, then passed to the fief of Giovagallo for a long period. From 1355 Azzone di Villafranca began his own dynasty but Tresana became an independent fief only in 1565 thanks to the Emperor of Austria Maximilian II of Habsburg, who granted the investiture to Guglielmo Malaspina who in 1571 also gave him the right to mint coins. The mint of Tresana did not have a long life, in fact in 1588 it became famous for minting false coins, including those of the Papal State, which led to the Marquis being excommunicated by Pope Clement VIII.
The following years were very turbulent, the population rebelled against the Malaspina to the point that in 1650 the Marquis Iacopo, brother of William II, was killed by an arquebus while climbing the stairs of the castle. Guglielmo II, on the other hand, died more simply in 1651 of a stroke while dining, leaving no legitimate heirs. Taking advantage of the power vacuum, the feud was occupied by the Spanish in the name of the Emperor, who sold it in 1660 to the Princes Corsini of Florence. In 1797 the territory was invaded by the French following the Napoleonic army, who remained here until the Council of Vienna and the final defeat of Napoleon. The castle then returned to the Corsini family who sold it in 1856, when it had been in very poor condition for some time. It was soon abandoned and fell definitively into disrepair until 2009, when the Maneschi Foundation became the owner. In 2010, it began restoration work, much of which has been completed.
The castle of Tresana hosts a B&B facility but can be visited by appointment calling +39 0187 301169.