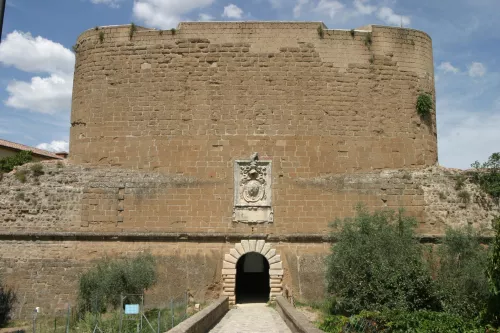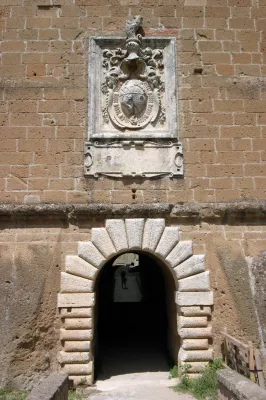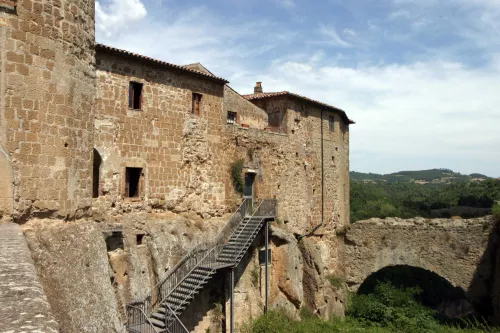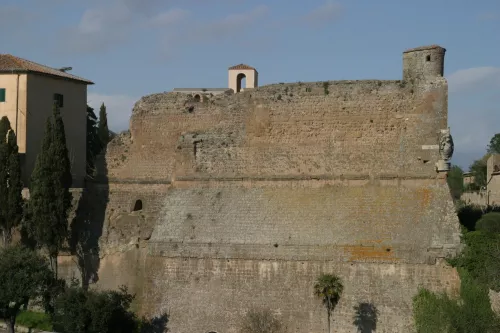 Sorano rises at the extreme south of Tuscany in the area known as 'the Etruscan tuff zone', easily reachable with the SS2 Cassia crossing first the Orcia Valley and the zone of the Mount Amiata then. On the SS2 we can also arrive from the exit 'Chianciano' of A1 motorway and then passing by Radicofani.
Sorano, with its fortifications, rises to the summit of a tuff relief, that is almost melted with the town, surrounded on three sides by the course of the river Lente in the homonymous valley. The existence of the Fortress, erected in its primitive forms by the Aldobrandeschi family, is noticed since the 1172. Until the end of the 14th century, due to the proximity of Sovana (principal center of the zone in that time), Sorano remained at the borders of the principal historical events.
With the succession of the dominion of the Orsini family to that of Aldobrandeschi and the contemporary decline of Sovana, Sorano became one of the principal centers of the area and the seat of the new powerful family.
In this period Siena tried several times without success to incorporate the fortress inside the dominions of the Republic. The whole inhabited area is extended today between the Fortress of the Orsini, of 14th century origin but completely restructured in 1552 by Niccolò Orsini IV°, and the 'Sasso Leopoldino', a natural tuff stone carved to form a fortified, panoramic terrace in the 18th century.
The fortress is considered one of the highest examples of Renaissance military architecture. The front toward the town is dominated by two mighty angular bastions, united by a wall curtain to the center of which the main gate, surmounted by a beautiful coat of arms in marble and a thick square tower, is opened.
Also on the western bastion, called of St.Pietro, there's a big marmoreal coat of arms. The other bastion is known as St.Mark. Just passed these imposing defensive works we penetrate the inner ward where the rests of the most ancient nucleus of the fortress rises, a round tower in which are still visible the traces of the disappeared drawbridge: in fact the two parts of the fortification are separated from a depth ditch.
Here was the residence of the owner of the castle and the barracks for the garrison. The fortress was completed by three ulterior minor fortifications set on the near hills, of which no more traces stay. In the 1608 Sorano was attached to the Granduchy of Tuscany. Lost its military importance, the complex was inhabited until end of 18th century from the last descendants of the Lorena dynasty.
Recently the fortress has been object of important works of restoration that, besides to safeguard its degrade, have brought to the light a cycle of Senese school frescos of the 15th century.