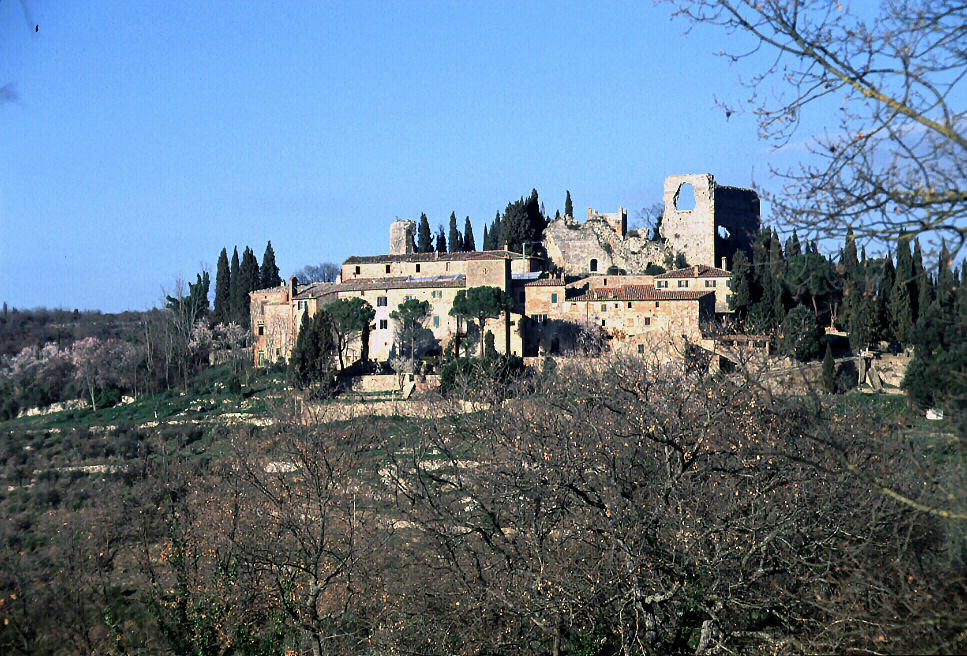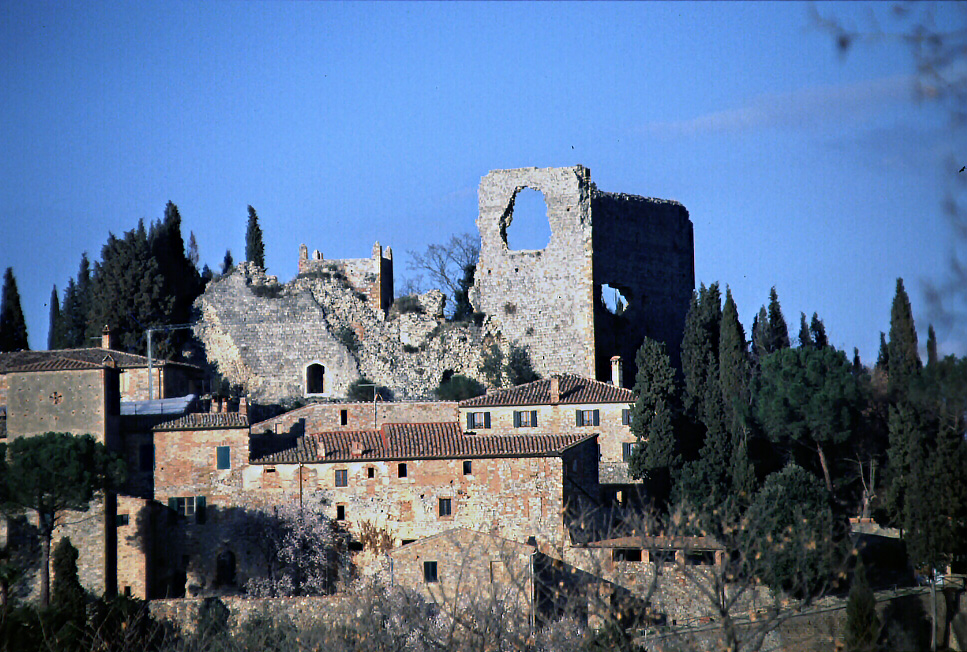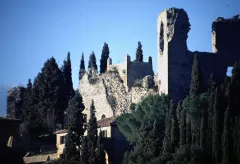 The fortified village of Montelifrè rises along the SS38 between Trequanda and Montisi, is can be reached from Sinalunga [ exit 'Val di Chiana/Bettolle' of A1 ] traveling throughout the SS38 toward S.Giovanni d' Asso/Torrenieri or from Siena throughout the scenographic route going along Asciano and San Giovanni d' Asso.
The small village of Montelifrè stands on the road that connect the villages of Trequanda and Montisi, between the Val di Chiana and the territory of the 'Crete Senesi' in the Val d' Asso, crowning a rocky hill and is overlooked by the imposing ruins of its ancient castle. Its name derives from the one of an earlier feudatary, Liutfrido, in German 'Liutfred', translated in 'Lifrè'. In some reports the castle is called also Monterenfredi.

The today appearance of the castle, a great construction in stone having a triangular shape equipped with high and thick walls, dates back to the 13th century. It rises on this hill since the beginning of the year 1000. It became then possession of the noble Sienese family Scialenghi-Cacciaconti, like the great part of the nearby castles. In the 1213 the community made act of submission to the City State of Siena. The reports tell us that in 1217 a low rank podesta of the sienese Peasantry was resident in Montelifrè. In 1289 the castle was occupied by the exiled Sienese Ghibellines and consequently seriously damaged by the reaction of the troops of Siena. Few years after, in the year 1348, Montelifrè became fief of the Martinozzi family, still today owners of the hamlet.

In the April of 1527, during the last war between Florence and the Republic of Siena, the fortress, just located on the border between the territories of the two fighting sides, was once again the den of Siena's enemies and refuge for exiled, rebels and outlaws. The Sienese Army, taking advantage on a momentary defeat of Florence, besieged the fortress and, after its surrender, shaved it to the ground mining the walls. Since that time, huge and with still part of its original stone revetment, the ruins rise scattered on the ridge and the northeast part of the relief. On the opposite side developed the small village enclosed by town walls gifted with two gates. Today the whole complex, castle and village, is a private property, transformed in holiday homes, visible only from the road.