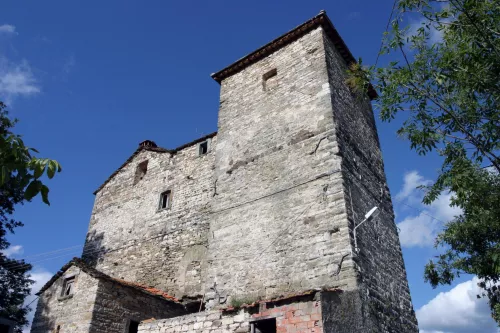 Mignano is about 5 km. from the center of Pieve Santo Stefano. Leaving the town to the north, you will find the sign for Mignano on your left.
Mignano is one of the most suggestive hamlets, for position and history, of the Valtiberina. The castle dates back to the 11th century, when it was built on a hill, 589 meters above sea level, of the Ancione Valley, dominating a great part of the surrounding territory.
The most ancient part is occupied by the keep with its tower; the fortification developed on the sides of the hill. The eastern front is characterized by two buildings with sloping roofs connected by a wall in which opens a gate with pointed arch. Over the gate stands the bell tower of the parish church of S.Andrea (named in a document of 1085 as S. Donato di Mignano, and in another of 1231 with the name of S. Andrea della Torre). Some parts of the town walls are still visible on the southern front.
On the western front stands the Keep with an angular tower. The tower, although today still intact, is probably lower than then it was originally due to a landslide. Another gate with a rounded arch, totally obstructed, is still recognizable.