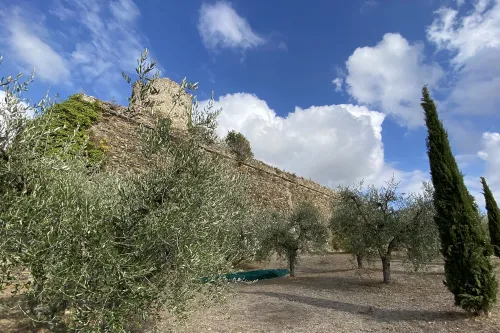 Lucignano can be easily reached following the Motorway A1 until the exit Monte San Savino, from which it is approximately 10 km far.
In the year 1554 Lucignano passed under the Medicean control and the Florentine Republic began a great series of urbanistic works like the construction of the Fortress, wanted in the 1558 by Cosimo and attributed to the architect Bernardo Puccini, the sanctuary of the Madonna della Querce, attributed to Vasari and placed outside the historical center (1568) the religious house of the Cappuccini (the 1580), the churches of Misericordia (1582) and Collegiata (1594).
The construction of the Medicean Fortress, or rather 'Le Fortezze' (The Fortresses) as it is called today, was begun by the Sienese and continued by the Florentines after the victory in the Battle of Scannagallo (1554) that marked the turning point in the War of Siena in favour of Florence, stand alone on the hill opposite the urban settlement [today in front of the new cemetery]. It consists of two unequal bastions facing towards Siena and united by a stone curtain, in the centre of which opens the main gate (called 'Reale'). The two round towers that rise on each bastion are a last century addiction, used as windmills. The construction of the fortress was never ended and today its ruins lack of maintenance and are partially invaded by vegetation.