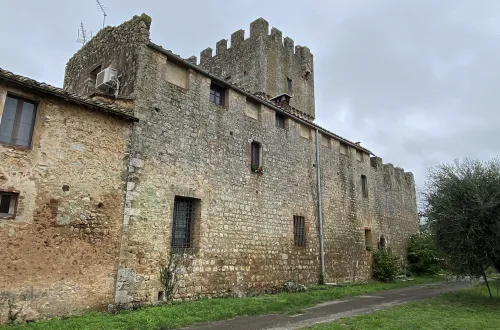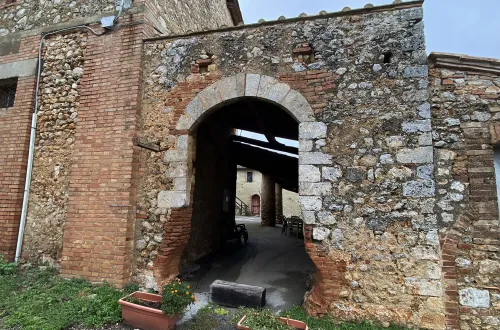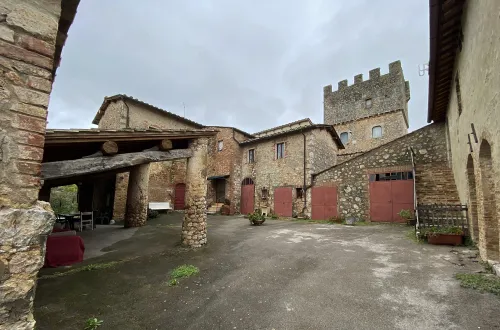 The castle can be reached by following the Siena-Florence motorway until the Monteriggioni exit, and from there taking Via Cassia (SR2) to the junction for Sovicille. As soon as you turn right, just follow the signs for La Villa and you will reach the castle.
There are few information about the Villa Castle, located in La Villa, just 8 kilometres from Monteriggioni. Situated opposite the most famous Castello della Chiocciola, the medieval building played an important role as it was located near the Via Francigena. The core of the fortress is a massive square stone tower, the keep, with a bastionated base, consisting of a floor with lintel windows on concave brackets and closed by a slightly projecting floor on stone brackets. Inside, fresco decorations created between the end of the 13th and beginning of the 14th century are still preserved.
Surrounding the keep there is a quadrangular walled circuit crowned with battlements, with an original structure leaning against it. The complex is surrounded by a group of buildings of clear medieval origin: portals, doors and arched windows made of Montagnola limestone ashlars testify their origin. The complex of these medieval structures shows how in the late Middle Ages the area of Montagnola Senese was not only a land of Castles and Abbeys, but was dotted with settlements of different types.