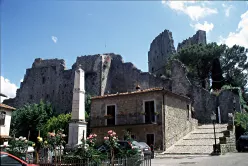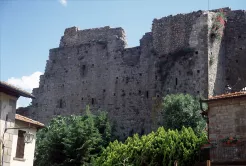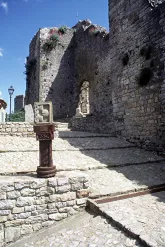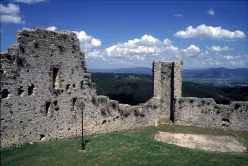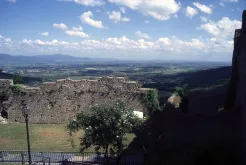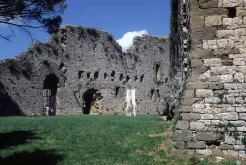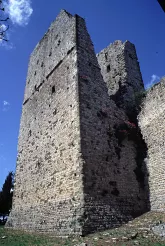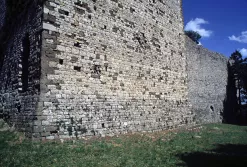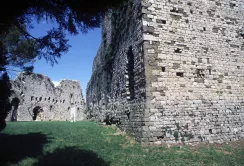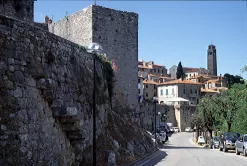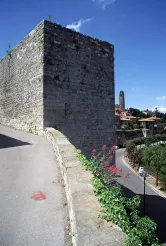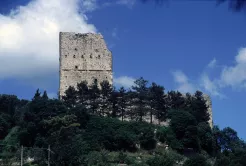 Civitella in Val of Chiana crowns a hill of 523 meters watershed between the Valdambra (Ambra Valley) and the Valdichiana (Chiana Valley), in province of Arezzo. It is reachable from the exit 'Arezzo' of the motorway A1, from which is about 15 km far.
The mighty ruins of the Rocca di Civitella in Valdichiana dominate the underlying fortified village. Civitella, crowning one of the most elevated hills watershed between the Ambra and the Chiana Valley, is one of the best preserved testimony of the many Longobard fortresses built between the 6th and the 7th century and strategically set to control the whole central Italy. The village still has in the layout of its town walls, almost intact, the characteristic elittical shape of the military settlements of this type.
Immediately after its foundation Civitella was subdued to the bishops of Arezzo, at the time it was known as 'Civitella del Vescovo' [Civitella of the Bishop], and was the chief town of the medieval military district of the Ambra Valley. In 1289, after the battle of Campaldino, this area was occupied by the Florentine, to return few years later again to the bishops. During 13th century the castle, as so many others in this area, on the occasion of the agreements that took away the independence of Arezzo for temporary periods, was committed to the Florentine Republic until the 1384, when it was definitely subjected to the 'City of the Red Lily'. In 1554, during the 'War of Siena' the castle withstand the siege of the Imperial troops, also thanks to the great works of strengthening carried on in the previous years. The state of downfall in which today the fortification lies is not owed to these remote war events, but to the destructions perpetuated by the German Army in 1944, when for retaliation was destroyed great part of the village.
Civitella is encircled by the almost intact medieval town walls, alternated by square towers and endowed with a mighty fortified gate called 'Porta Aretina'. On the eastern vertex of the hill the walls are connected to the Rocca, a huge and magnificent building of the 13th century, erected by the aretine bishop Guglielmino degli Ubertini. The construction, gifted of high external walled enclosure with a beautiful gate, is a classical example of medieval quadrangular shaped castle-fence, with the mighty keep rising up from the western angle of the inner courtyard. This, although in ruin, has still today strongly visible some decorative elements that made it one of the finest examples of Tuscan fortified architecture: the portal with gothic arch, windows with lowered arch, the high quality of the worked stones and other materials and other technical particulars are not easily to be found in other constructions of this age.