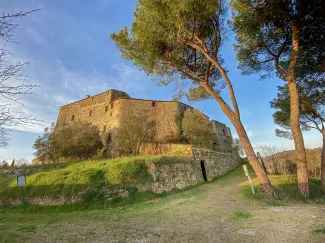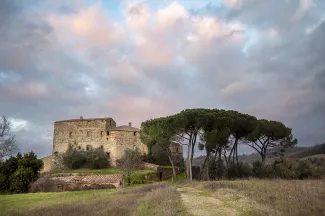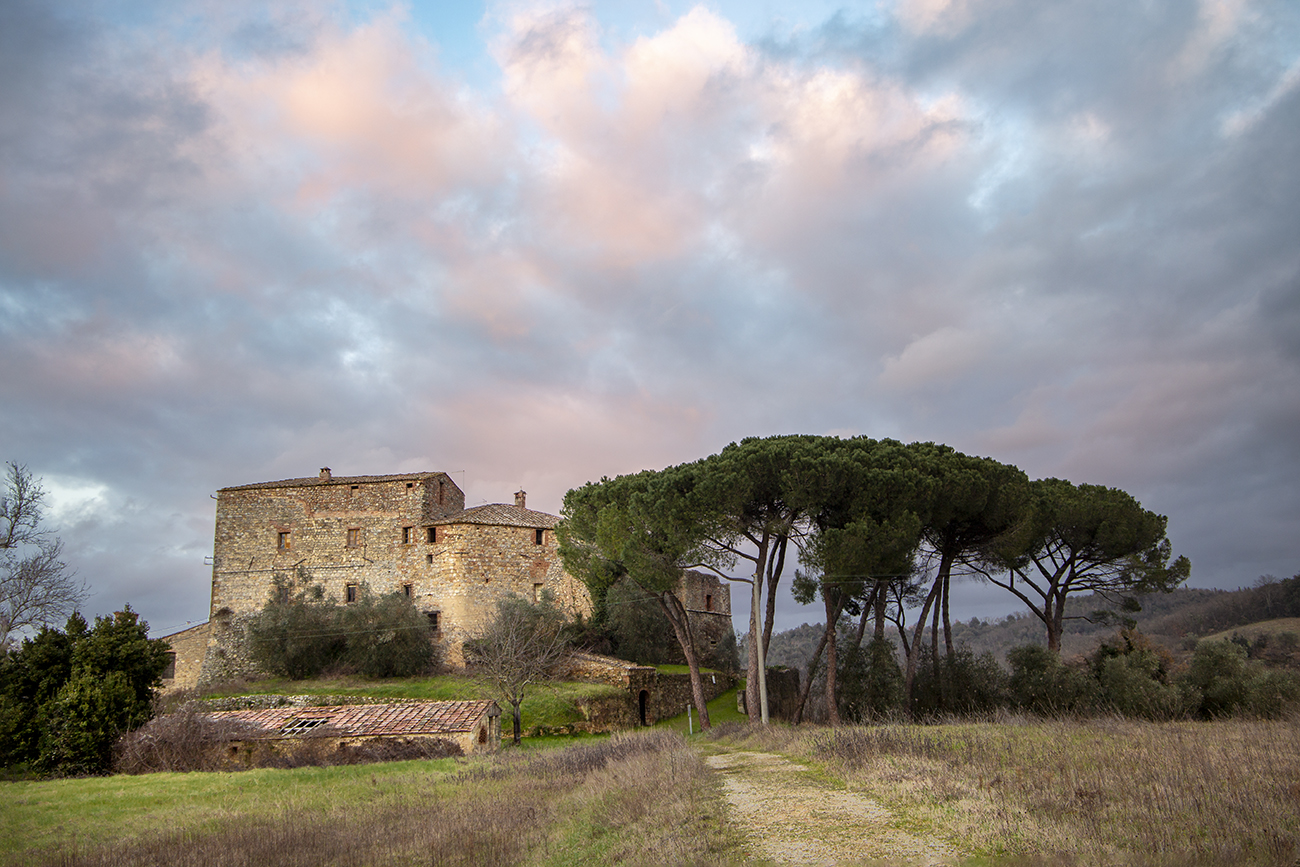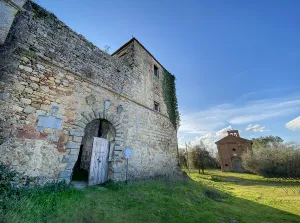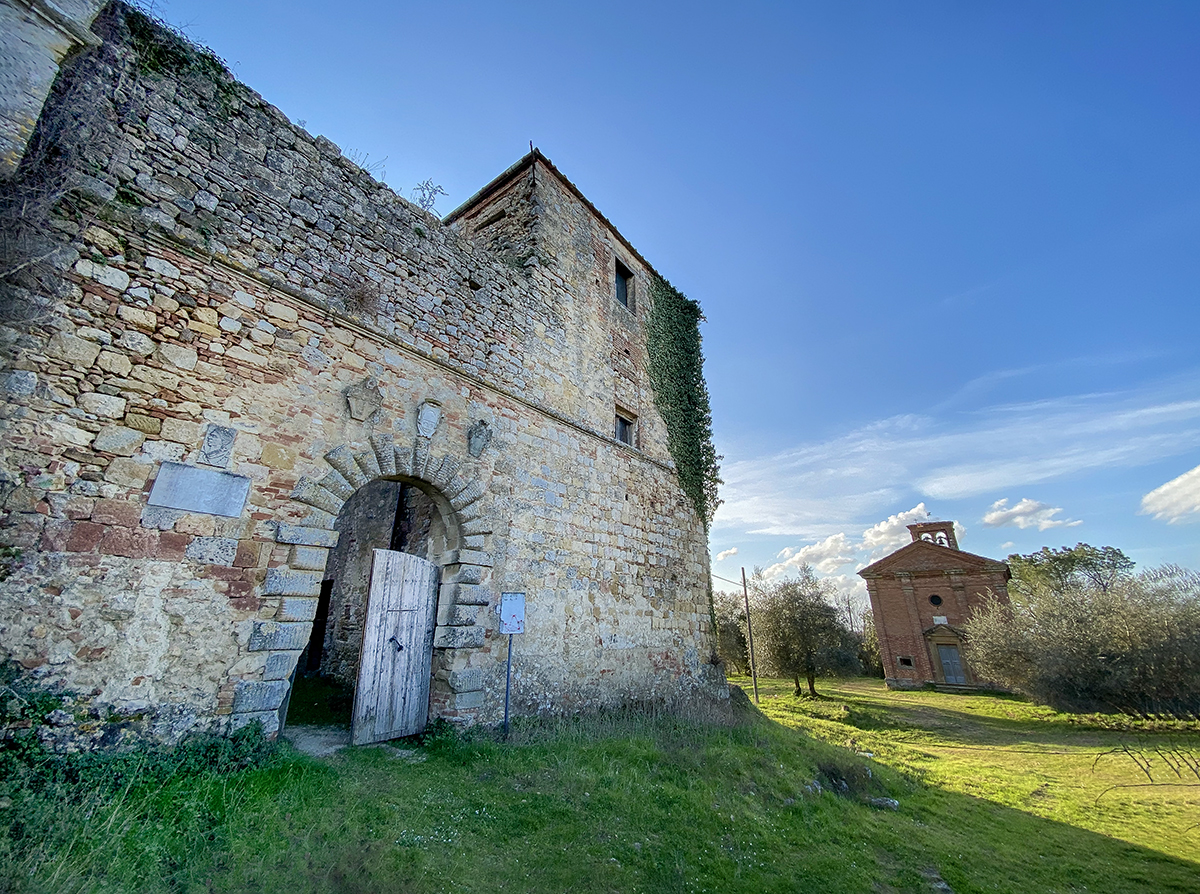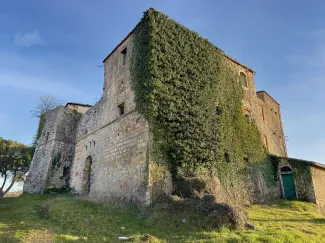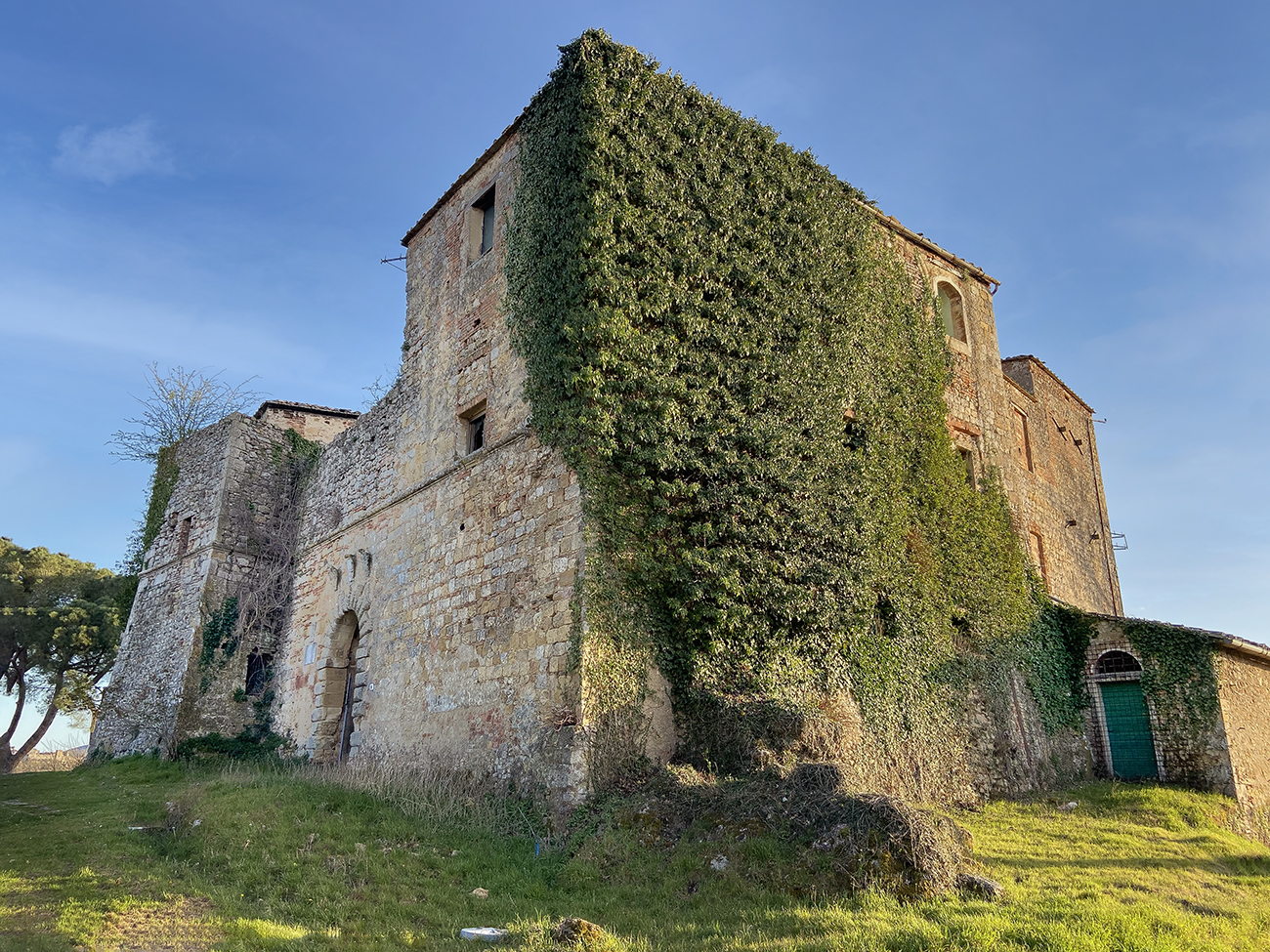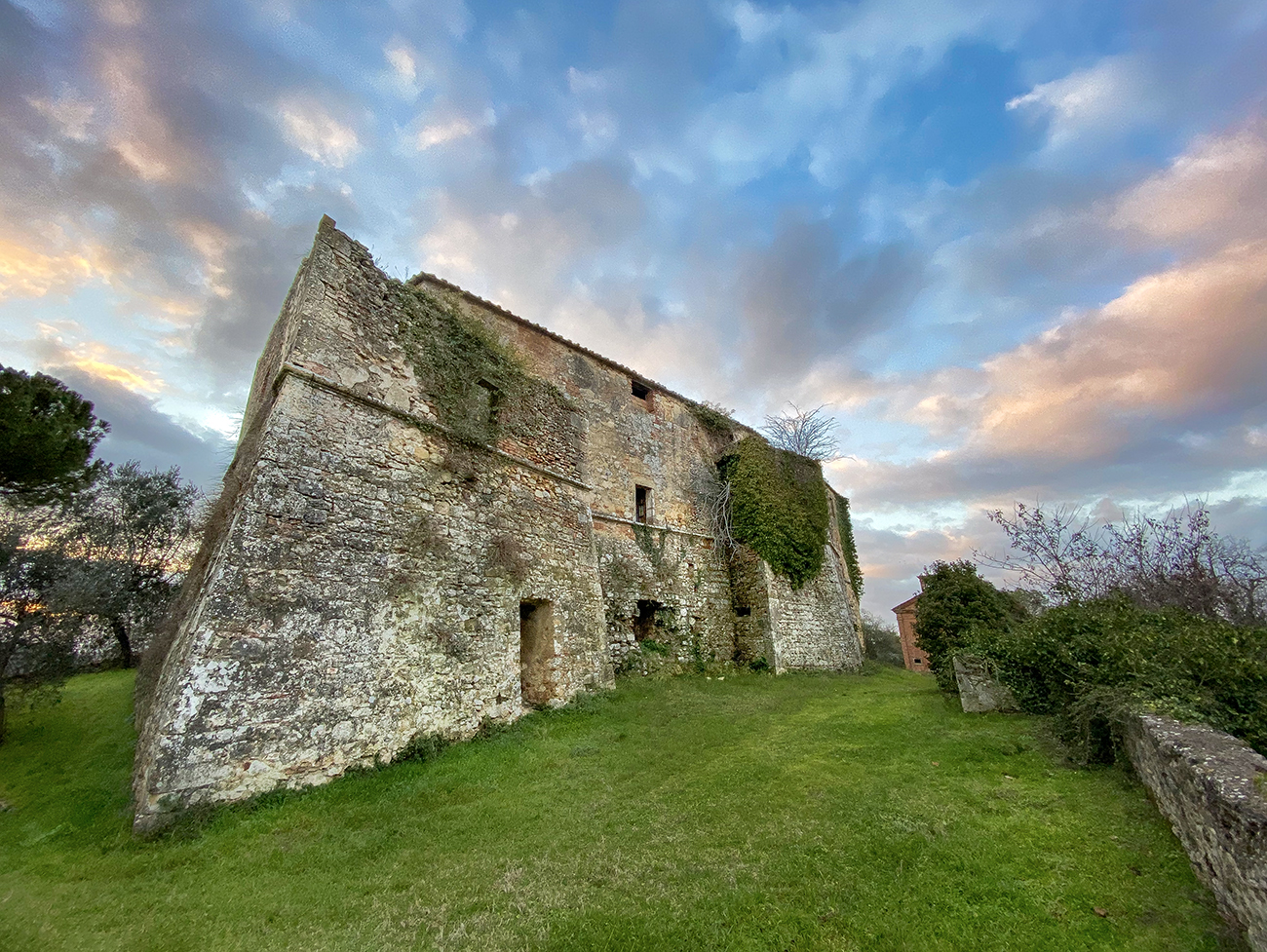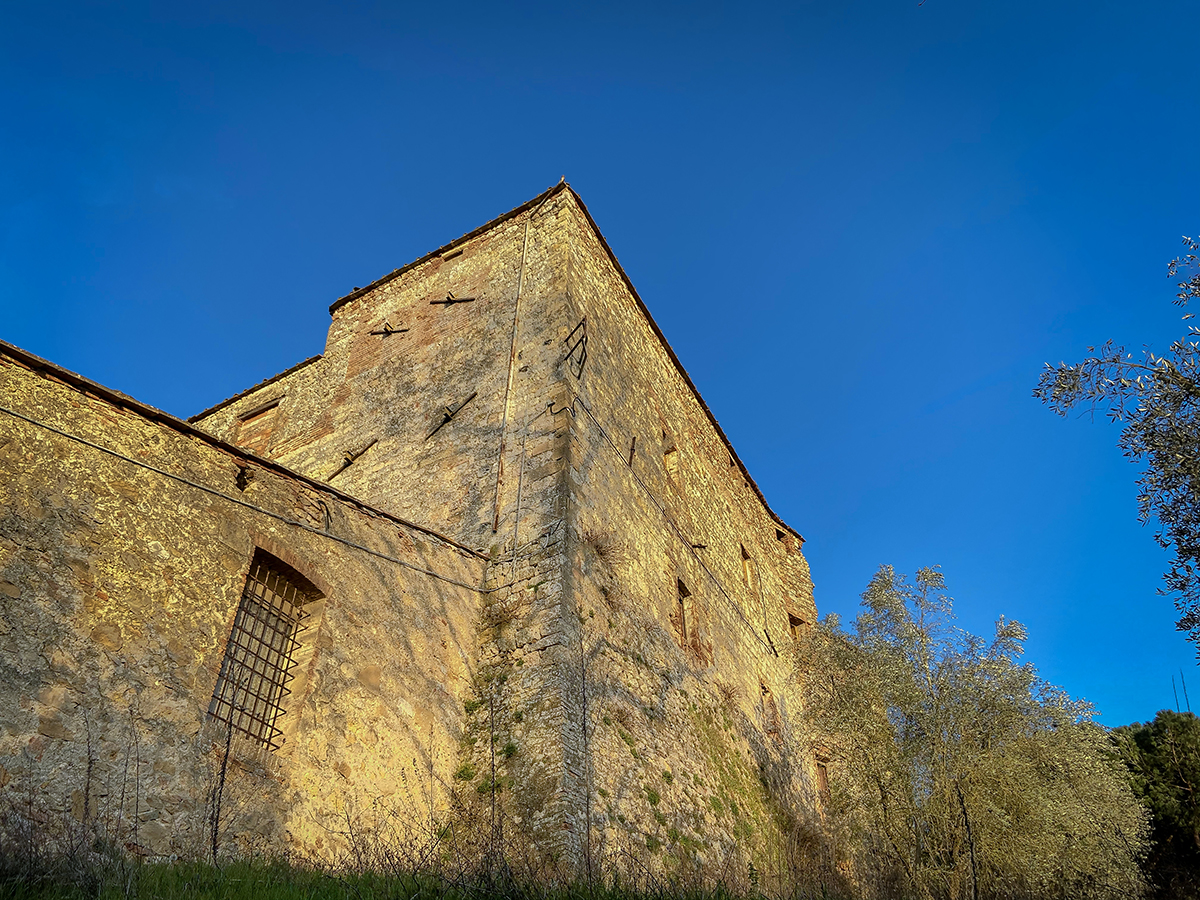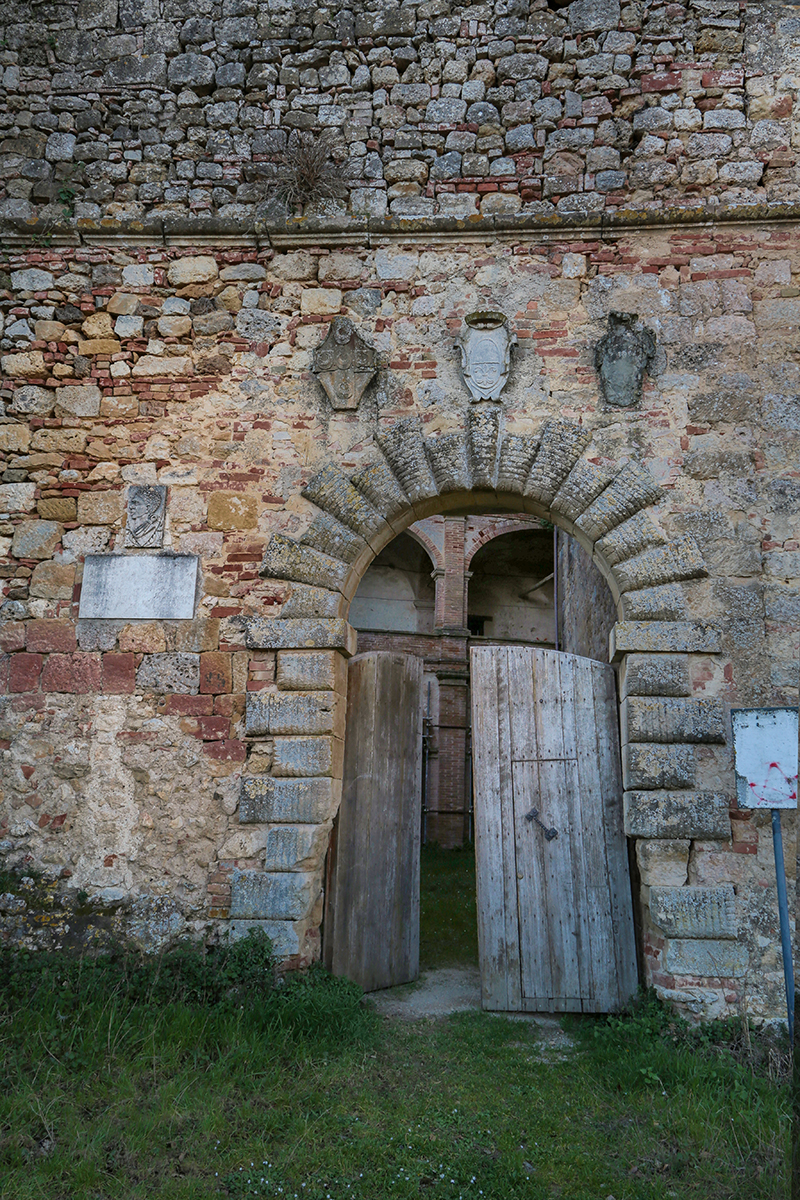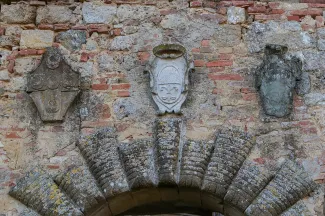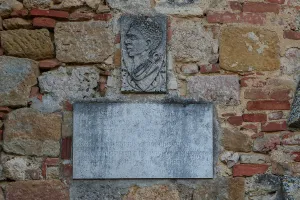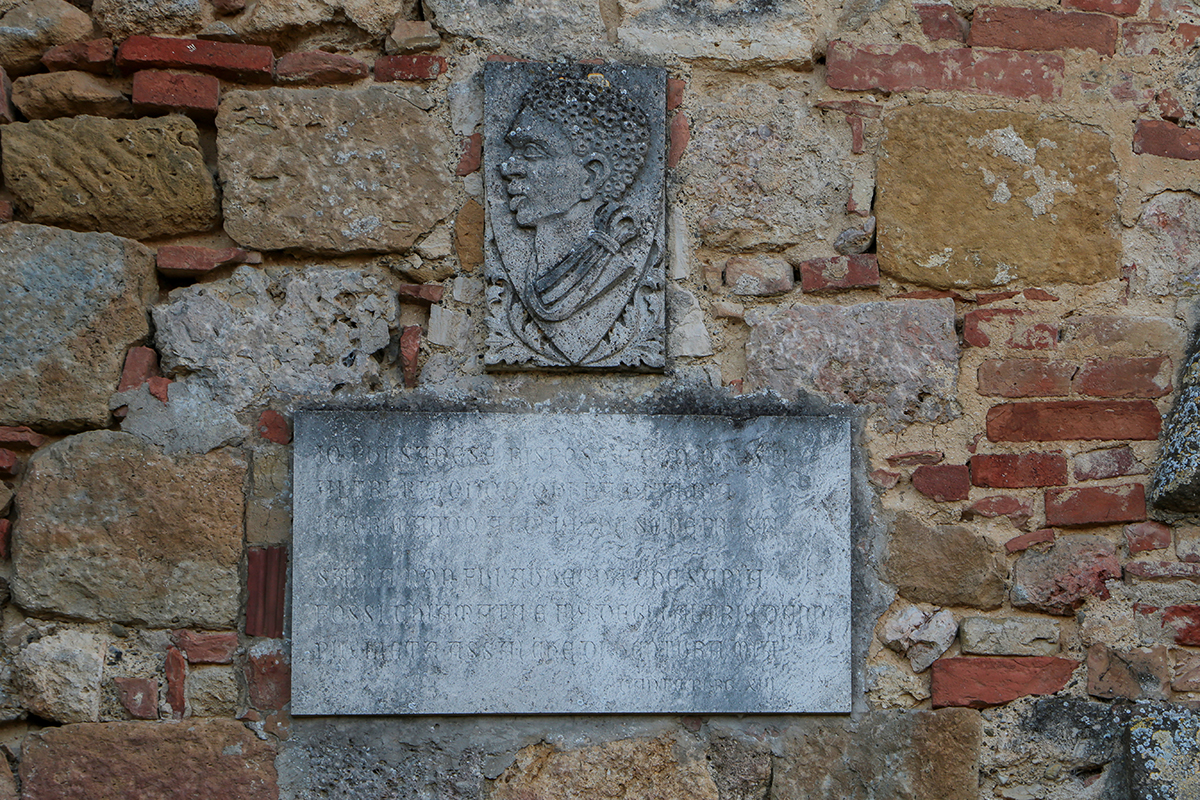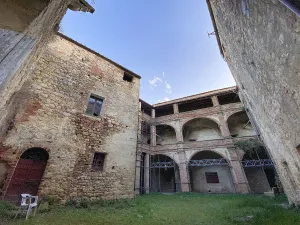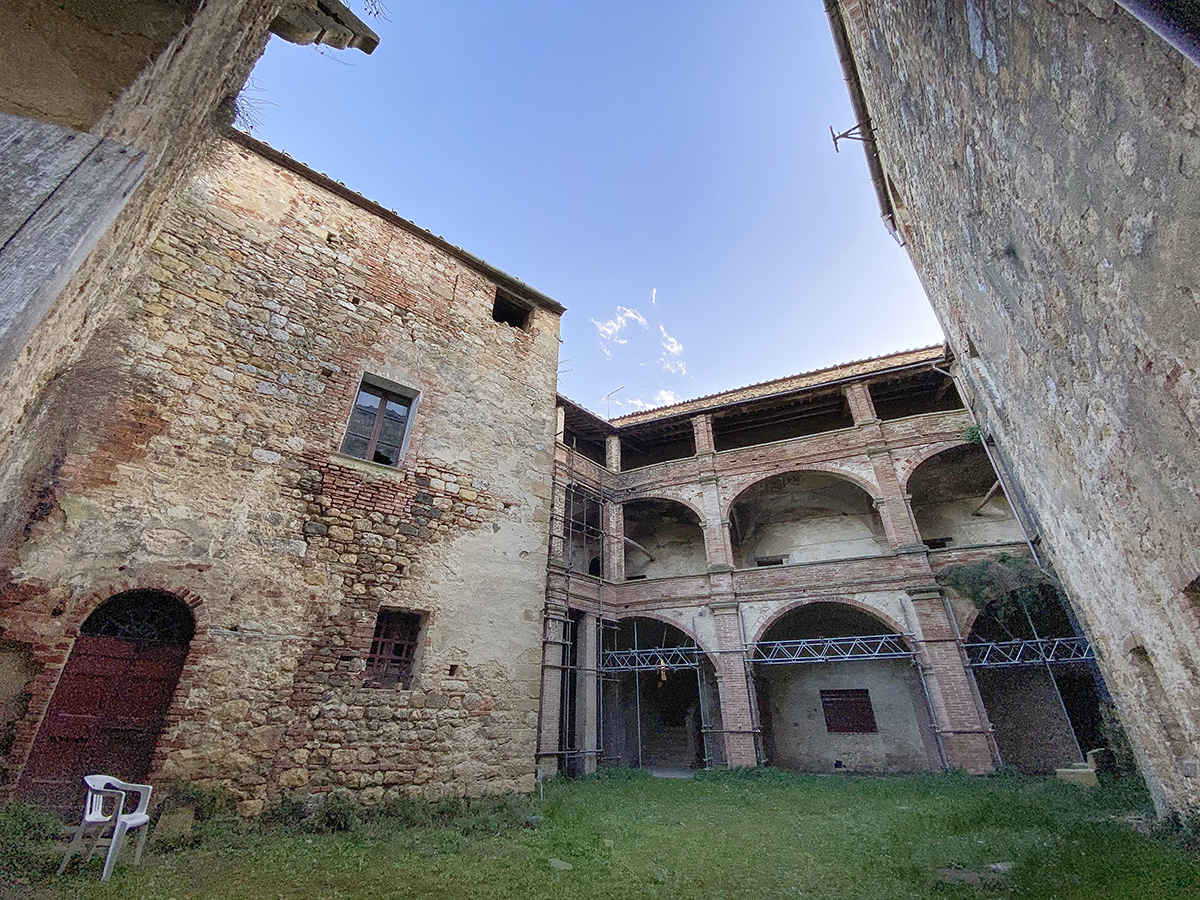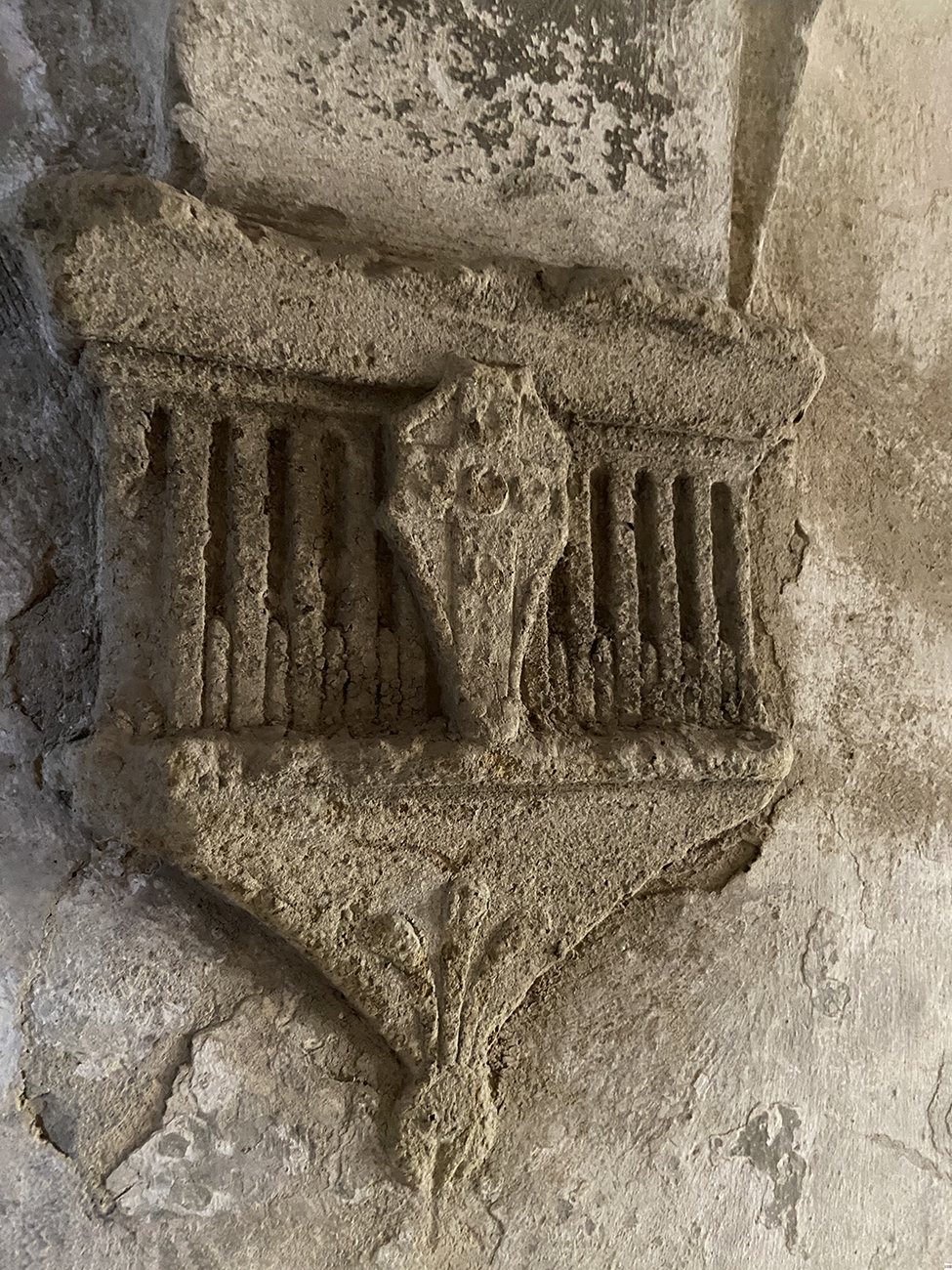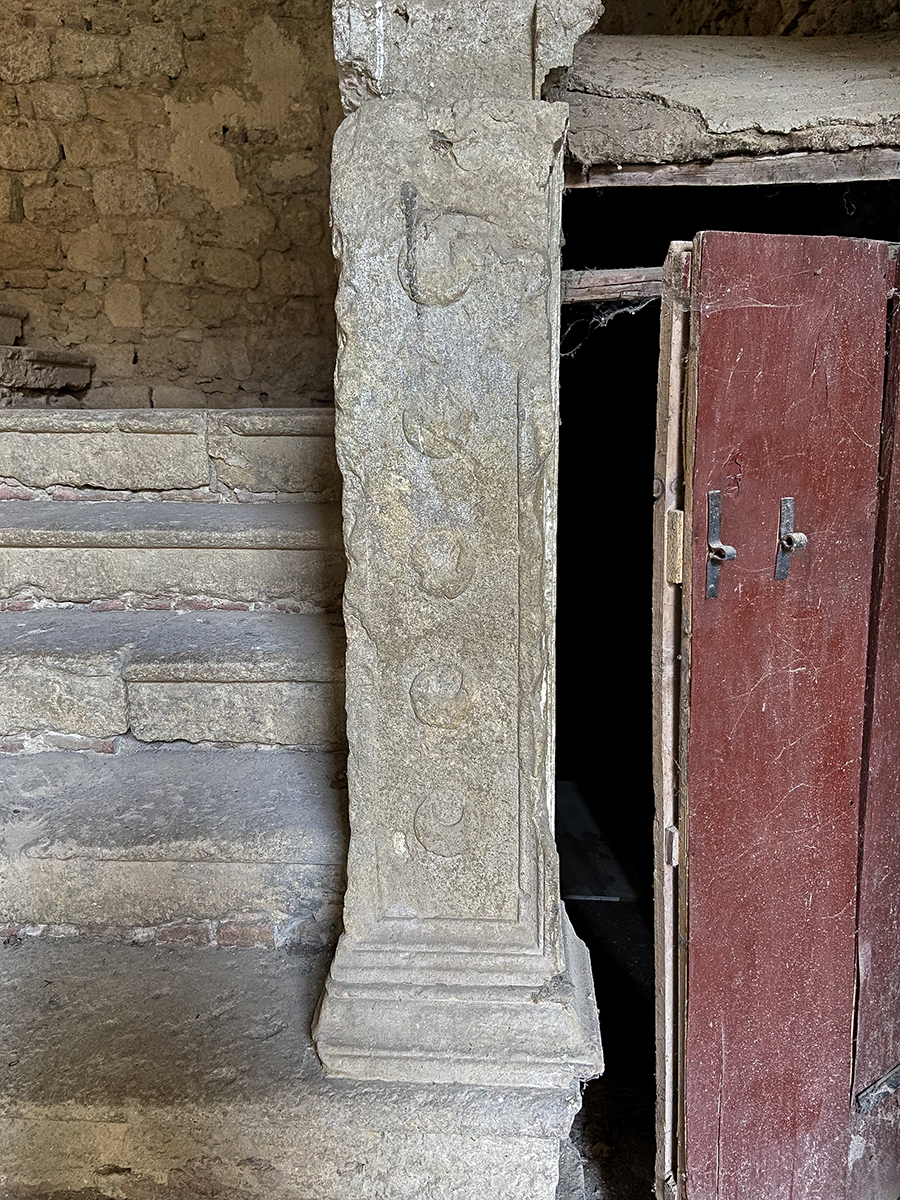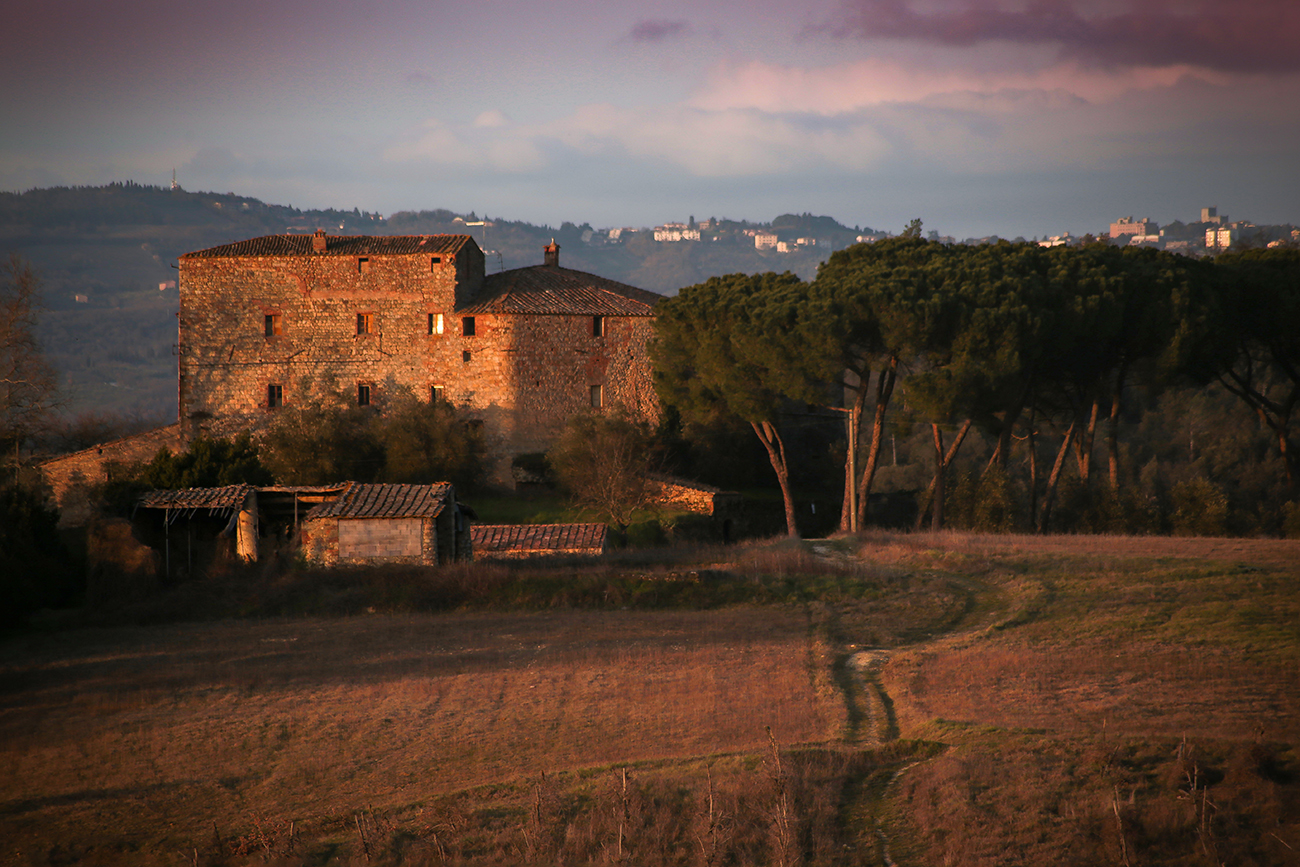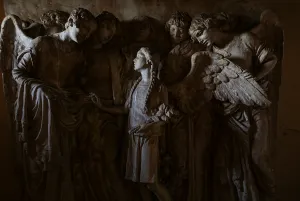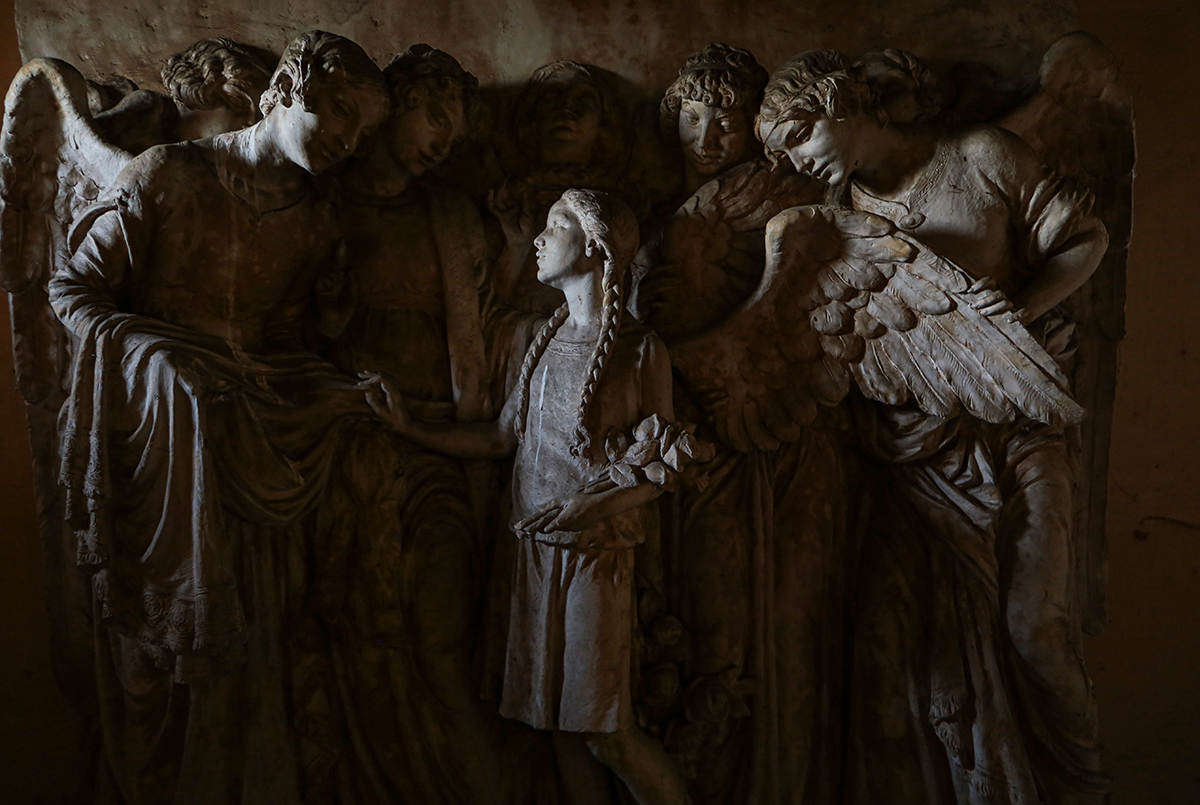 The castle stands in a strategic position on a 236 metres high hill offering a view over Monteriggioni. It is still surrounded by a mighty wall with angular and cylindrical bastions where a ramp leads to the space in front of the main gate, leading into an articulated central courtyard with overlapping arches, result of sixteenth-century renovation, as well as the portal that allows access and the church located to the side of the fortress.
The origins of Castiglion Ghinibaldi dates back to the 11th century when Lambardi family, built a castle a short distance from the walled town of Monteriggioni to guard over the nearby Via Francigena. Its rule passed to the bishops of Siena and then to the monks of Abbadia a Isola during the 12th century. It was destroyed by the Florentines in 1158 but the settlement was rebuilt. In 1265, a hospital was founded on the site by Ghinibaldo dei Saracini, (hence the name), husband of the Sapìa mentioned by Dante (Purgatory - Canto 13). It is from here that she would have observed the defeat of her fellow citizens during the battle of Colle di Val d'Elsa. Saracini had feudal rights over the castle and received large trading profits, reinvested in the purchase of numerous surrounding farms. The castle was then granted to the Comune of Siena, which in 1271 sent a juror on behalf of the mayor, and the Ghinibaldi hospital became part of the jurisdiction of the great Hospital of Santa Maria della Scala in Siena. In the 16th century the castle passed to the Piccolomini family.
The actual building, organised around a beautiful central courtyard, is composed of various elements, with a prevalence of structures that are the result of 15th-century reconstruction. Although it has been remodelled several times, it clearly denotes its medieval origins in the massive and compact walled curtain around the courtyard, remodelled in the 16th century, in the masonry and in the shape of many of the doors and windows. The small external church seems to have had the name 'Chiesa di San Ruffiniano' and contains a marble tombstone that was part of the thirteenth-century hospital complex on the Cassia. From the same documents, it seems that the stone column dividing the mullioned window of the bell tower also belonged to this complex. Inside, there is a spectacular relief depicting four angels and a little girl. It dates from the 19th or 20th century and it is still unclear what it is supposed to represent: it is located behind the altar of the chapel, which is not accessible (but maybe you will be lucky and find the door open...). The castle is now abandoned.