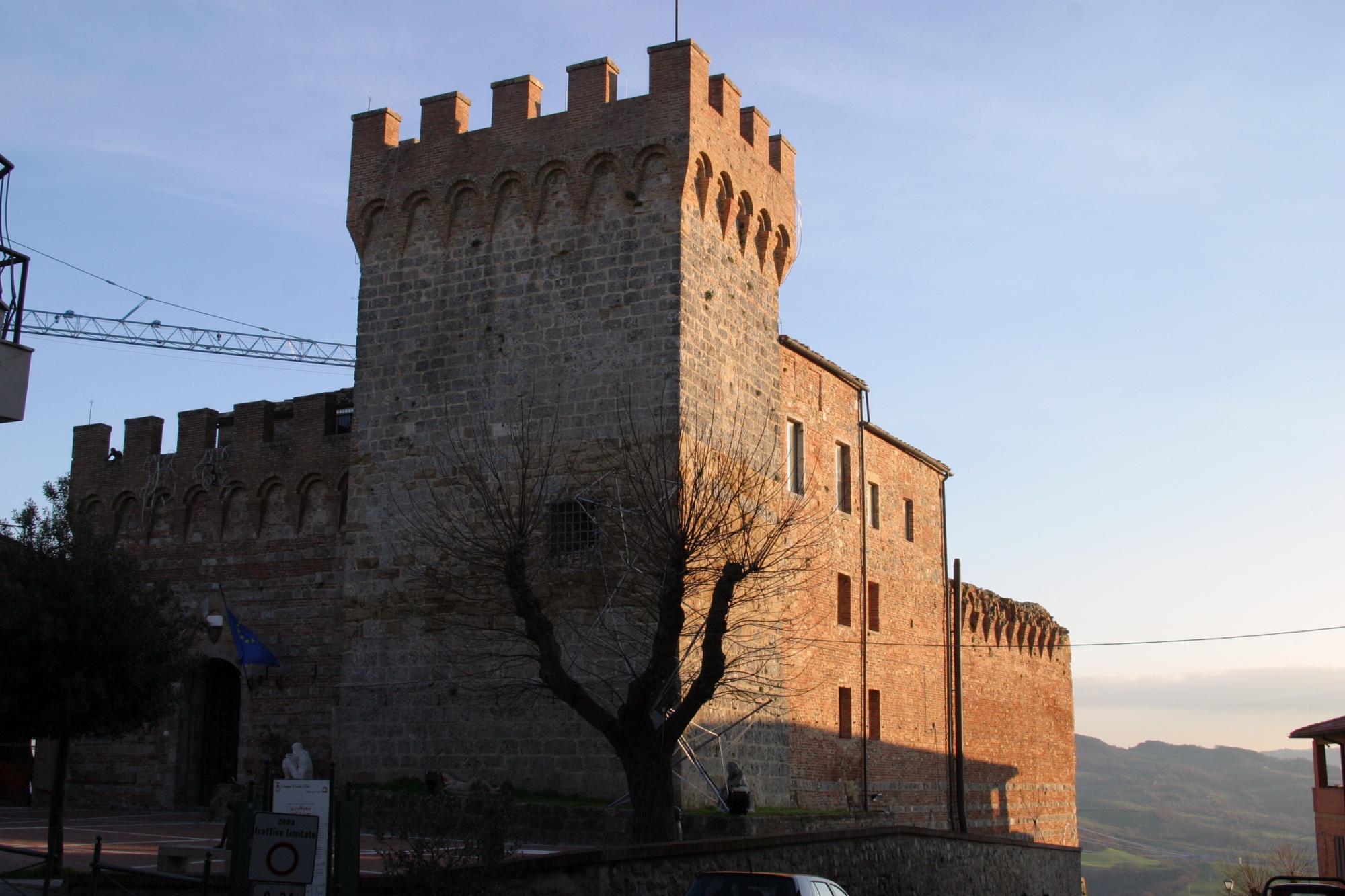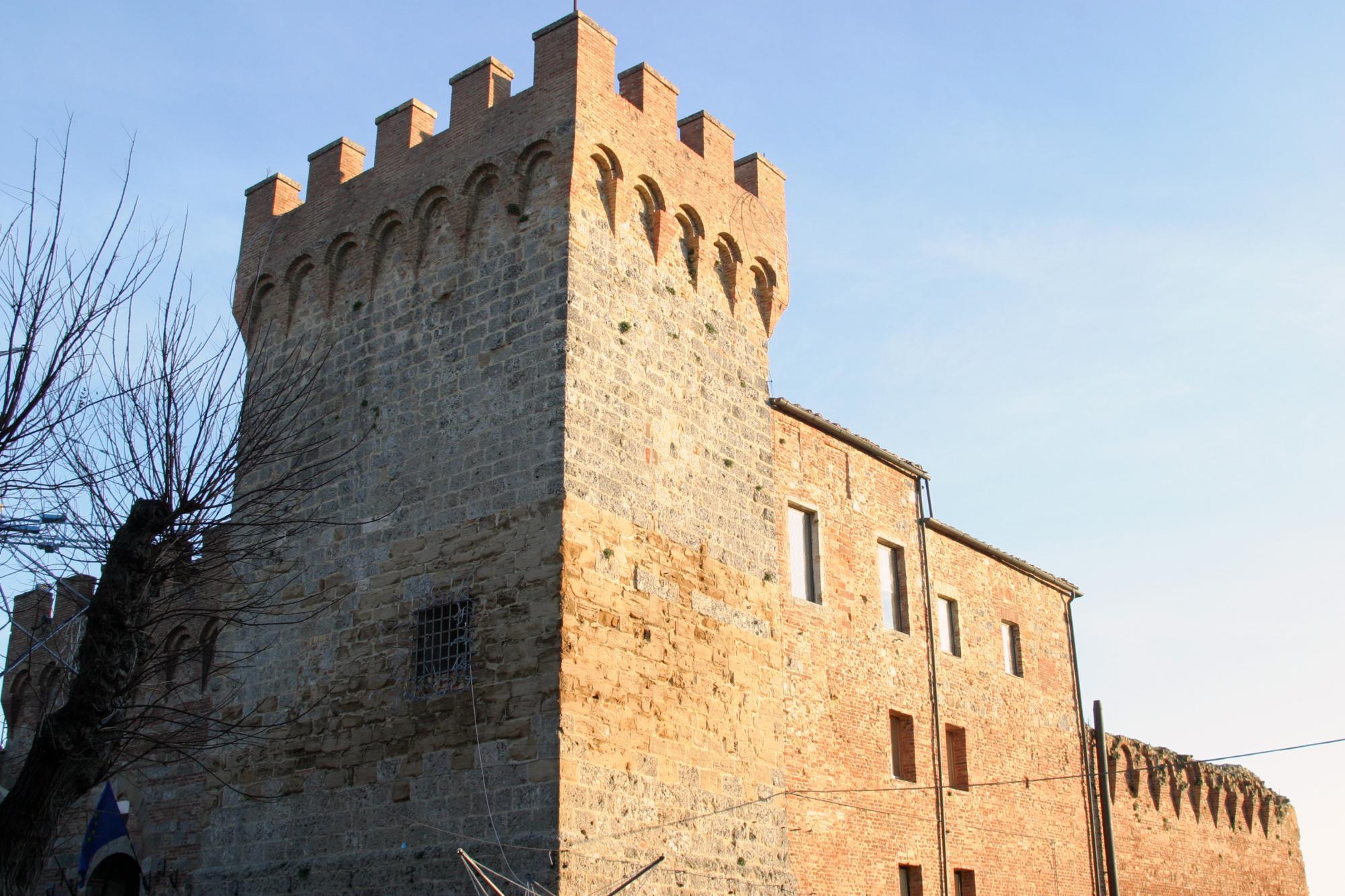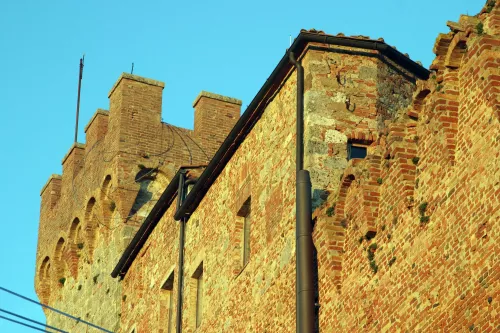 The medieval village of Casole d' Elsa is easily reachable following the Siena-Firenze motor highway until the exit 'Colle Val d' Elsa Sud', then following the indications for Volterra-San Gimignano, just passed the locality 'Le Grazie' on your left you'll find the road signs for 'Casole d'Elsa'.
Original Etruscan takeover, in the year 1200 Casole passed under the dominion of the Bishop of Volterra, that erected the primitive fortifications of the town. This place was always a stronghold in the Sienese orbit, crowning a hill in a border zone, the high Val of Elsa, sourly contended between Volterra and Florence for its strategic position, 15 Km. from Colle Val d' Elsa, 25 Km. from S.Gimignano and Volterra. The same inhabitants of Siena took care of the fortification of the city walls and the strengthening of the Castle.
The Town Walls of Casole have an elliptic shape, covering an extension of about 420 for 130 meters. The curtains were endowed by two Gates, now both destroyed. At South, just under the Castle, was the Rivellino Gate (Porta del Rivellino), demolished during the world war II by the German troops, at north the Frati Gate (Porta ai Frati).
The western front of the city walls (for great part still intact although incorporated in the houses) looking at the Val d'Elsa is characterized by two big semi-circular towers built in 1481. They were planned by the great Sienese architect Francisco di Giorgio Martini in order to fortify the original defensive structures, of which the Castle represents the maximum expression.
The Castle (or Rocca) stand on the south side of the town-walls and is currently seat of the Municipality of Casole. It was erected in 1352 and later on strengthened by two towers, of square shape and crowned by Guelph battlements. The beautiful gothic portal with lowered pointed arc crowned by the coat of arms of Siena keeps interesting arrow slits on each side.
On the still intact part of the walled curtain, built in red bricks but characterized by the insertions of horizontal decorations in stone, are still recognizable the rests of the machicolation supported by brackets with the shape of an overturned pyramid.
All the southern external side (joined at the city walls) of the Castle is disappeared. The alternation of stone and brick along all the perimeter of the building evidences the many alteration carried on in the centuries.
Still today Casole conserves the atmospheres of last outpost and everywhere are visible rests of fortifications and palaces slowly adapted in the time to the needs of men. With alleys, public squares and medieval palaces it is one of the more fascinating villages of the Val d' Elsa.